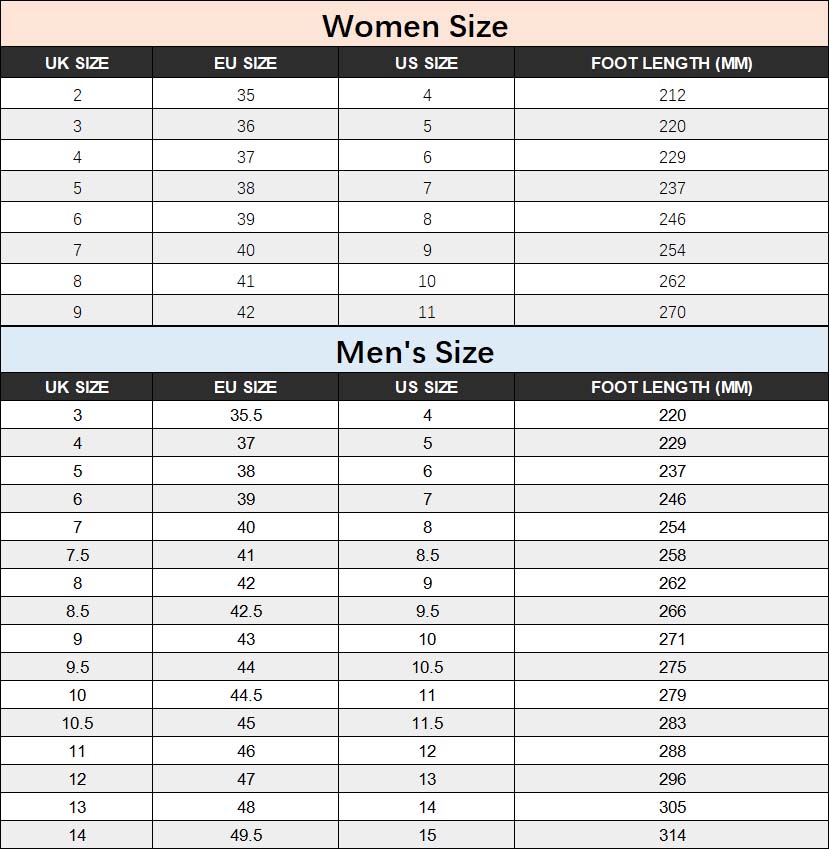 HOW TO MEASURE

1. To measure your feet stand on a level floor with the back of your heels against a straight edge or wallngest toe. Take the measurement (in millimeters) from the ruler where the flat edge crosses (see image below). This is your foot length measurement.

2. Selecting a shoe size. If your foot measurement is halfway between sizes, select the larger size.

You may find one foot is longer than the other, this is quite normal, please use the larger size when making your shoe size selection.
 Shipping Method
Cost
Delivery Time
Condition
 Standard Shipping
£6.99 
5-10 days
For order value

 

≤ £

49
 Free Shipping

£

0 
5-10 days
For order value > 

£

49
Constraints and delays
Please be advised that we're experiencing shipment delays due to impacts associated with Covid-19 and are unable to provide an estimated shipment date for your order. Rest assured that all orders are being shipped in the order in which they were received. You will receive an email shipment notification when your order has shipped. We appreciate your patience.

Due To Higher Than Normal Order Volumes, Shipping Times Might Be Delayed A Few Days
FAST SHIP TIMES AND METHODS We want your order to arrive as soon as possible, which is why almost all orders ship within 1 business day
There are a handful of countries we are currently unable to ship to. As long as your country appears in the list of countries when entering your shipping address, we can ship to you!
Due to International Customs and duties, we are unable to offer free exchanges on any international orders. Any and all return or exchange shipping fees are the recipient's responsibility.
Customs or duties are the responsibility of the recipient and the fees vary for every country and order. Please understand that customs fees and duties are not refundable.
Very good
Very comfortable and attractive. I got one pair and then two more
Nice shoes
I did not have high expectations for these shoes when I purchased them because of the price. I have been pleasantly surprised, however. They are extremely lightweight, comfortable, breathable and fit well. I am very happy with them!!
A perfect fit
I walk every day and my feet and knees killed me the rest of the day so I hobbled around and was using pain creams every day.
Once I bought these, my knees completely stopped hurting and so did my feet. No more pain creams! They're very cushioned and super lightweight. My other shoes feel like anchors compared to these. Definitely recommend!
Comfortable for Extended Periods
I work twelve-hour shifts transporting patients at a hospital. On average, I walk 15 to 20 miles per shift.
My feet were killing my wearing Nike "running shoes", so I decided to try these out.
They're perfect. The soles are soft yet firm, the mesh breathes very well, and my feet feel absolutely fine at the end of my shifts. I'll definitely be buying another pair after these wear out.
Lightweight, comfortable
I bought these for my brother who is very picky. He was thrilled with them. These had enough "give" to be comfortable on his walks. He is 68 so he doesn't do any running. He liked them so well that I just ordered him another pair.
Very Nice Looking
I am a tall lady with big feet but I got a few compliments wearing the light grey shoes. My feet have been tender but these look and feel good since I ordered in men's a half size up. The shoes are well made, light weight and comfortable. I am hoping to find a new pair like them that I wont have to tie up.
Shocked
I cant believe how good these shows are! Very comfortable, light and they look good. Ill definitely buy more.
Perfect Combination of Style and Comfort
Fashion often comes at the expense of comfort and comfort inevitably abandons part of aesthetics. At Hsweetgirl, you don't have to give up either of them!

What Makes Wmshoe So Comfortable?
Wmshoe is biomechanically engineered with unique comfort features to offer the very best solution for sensitive feet and other feet that need special care due to physical diseases.