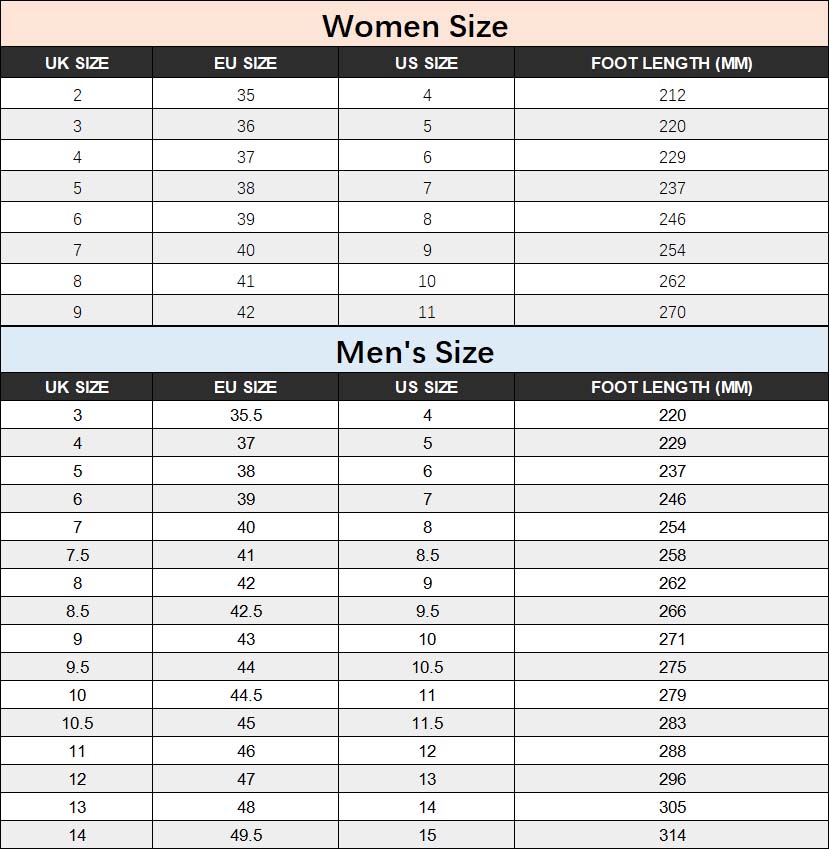 HOW TO MEASURE

1. To measure your feet stand on a level floor with the back of your heels against a straight edge or wallngest toe. Take the measurement (in millimeters) from the ruler where the flat edge crosses (see image below). This is your foot length measurement.

2. Selecting a shoe size. If your foot measurement is halfway between sizes, select the larger size.

You may find one foot is longer than the other, this is quite normal, please use the larger size when making your shoe size selection.
 Shipping Method
Cost
Delivery Time
Condition
 Standard Shipping
£6.99 
5-10 days
For order value

 

≤ £

49
 Free Shipping

£

0 
5-10 days
For order value > 

£

49
Constraints and delays
Please be advised that we're experiencing shipment delays due to impacts associated with Covid-19 and are unable to provide an estimated shipment date for your order. Rest assured that all orders are being shipped in the order in which they were received. You will receive an email shipment notification when your order has shipped. We appreciate your patience.

Due To Higher Than Normal Order Volumes, Shipping Times Might Be Delayed A Few Days
FAST SHIP TIMES AND METHODS We want your order to arrive as soon as possible, which is why almost all orders ship within 1 business day
There are a handful of countries we are currently unable to ship to. As long as your country appears in the list of countries when entering your shipping address, we can ship to you!
Due to International Customs and duties, we are unable to offer free exchanges on any international orders. Any and all return or exchange shipping fees are the recipient's responsibility.
Customs or duties are the responsibility of the recipient and the fees vary for every country and order. Please understand that customs fees and duties are not refundable.
🔆New Year Hot Sale🎁Men's Outdoor Leather Walking & Warm Shoes W089(Buy 2 Free Shipping)
Nice warm winter boots
A good pair of wnter booyts, with a warm fleecy winter lining. Good sturdy ole. Very waterproof.
NB Be careful re. size however !!!!. - I recomend you but one EU size biggger than that recomended. e.g. I am a UK 9. I bought a pair size EU 43 ( as per their web site's Size conversion guide ) they were too small, and pinched my toes. Re-Ordered a 44 ( 9.5 UK acording to their INcorrect guide ) and they fit fine !
🎄Christmas Hot Sale🎁Men's Outdoor Leather Walking & Warm Shoes W089(Buy 2 Free Shipping)
Number ONE !!!
I don't believe my reply reached you, but I said that at the age of 80 with 75 golfing years, many in single figures, I had until yesterday, never had a Hole in One. Believe it or not having left my golf shoes at home, I played in your comfy shoes and at the 5th hole at Burnham and Berrow, achieved this milestone. You must take some credit for this!
Very Good
Once the package arrived all was very good in terms of fit and comfort.
Great Shoes
A very soft and warm shoe also purchased at a great price.
i have not used the shoes as yet.
Comfortable shoes
Tried the shoes for the first time today and they were very comfortable, softer and lighter than my other shoes.
winter shoes
lightweight and very comfortable shoes. excellent value for money
Perfect Combination of Style and Comfort
Fashion often comes at the expense of comfort and comfort inevitably abandons part of aesthetics. At Hsweetgirl, you don't have to give up either of them!

What Makes Wmshoe So Comfortable?
Wmshoe is biomechanically engineered with unique comfort features to offer the very best solution for sensitive feet and other feet that need special care due to physical diseases.